The importance of a good portfolio cannot be understated. The ability to display your best work to those who are interested is tremendously important. Having a captivating website is essential to the career of a designer, photographer, tech savvy or anyone who wishes to showcase their skills and creativity to the world.
Unfortunately, not many succeed in retaining the clients who browse through their websites. As a solution, this post will provide a foolproof guide to creating the ultimate portfolio.
Theme Selection

There are thousands of WordPress themes that are lurking around the internet. The cost of these themes can vary. Plenty of themes are available for free, but some more premium ones may charge a fee. The features of these themes can also vary significantly. Customization options, browser and plugin compatibility and responsiveness are some examples. If you rewind back some years, most of these factors weren't even considered during the selection process. A perfect example would be responsiveness. According to the researchers, it has been proven that a website has 30 seconds to hook or lose a visitor. If that period of time is not fully utilized, you are likely to never see that individual again on your site. This factor makes the careful selection of themes an even more crucial determinant of your success.
For this very purpose, we, from the Green Turtle Lab, have created an ultimate portfolio theme consisting of every single key feature that is required to impress your visitors.
The First Impression
Right from the header, as seen below, you are able to display one of your finest works as a background image. With its simplicity and spacious structure, the theme serves as a visual delight for anyone browsing it.

Brief Visual Introduction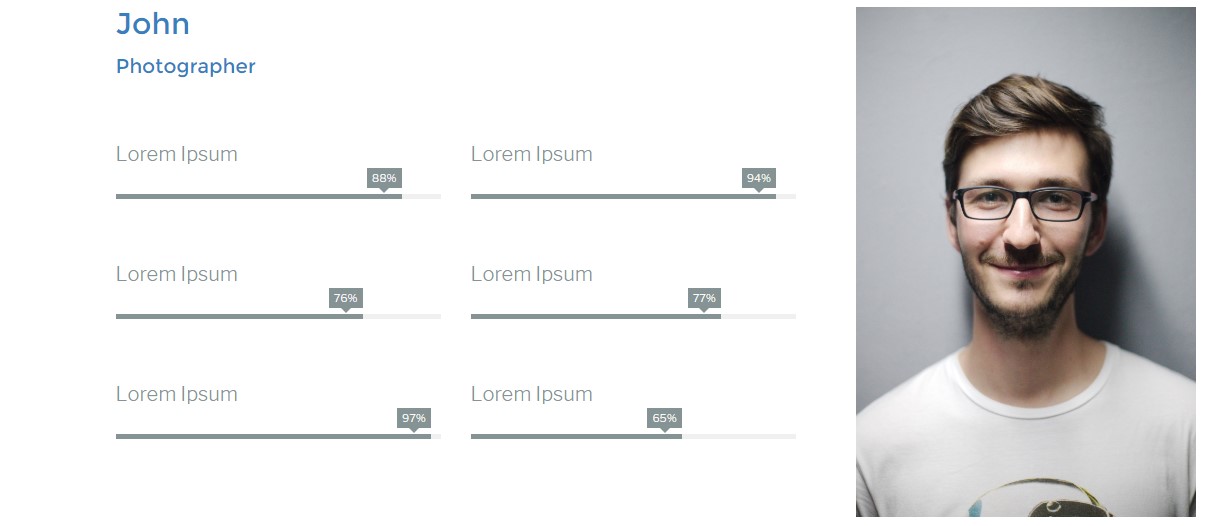 ­­­
Our brief introductory section will give all your clients a quick comprehension of what you are capable of doing. This short and separate section can be used to display your major skills and your expertise in them adjusted by the percentage bar. There is also a space for you to post a photograph of yourself or your company's logo.
Straightforward Design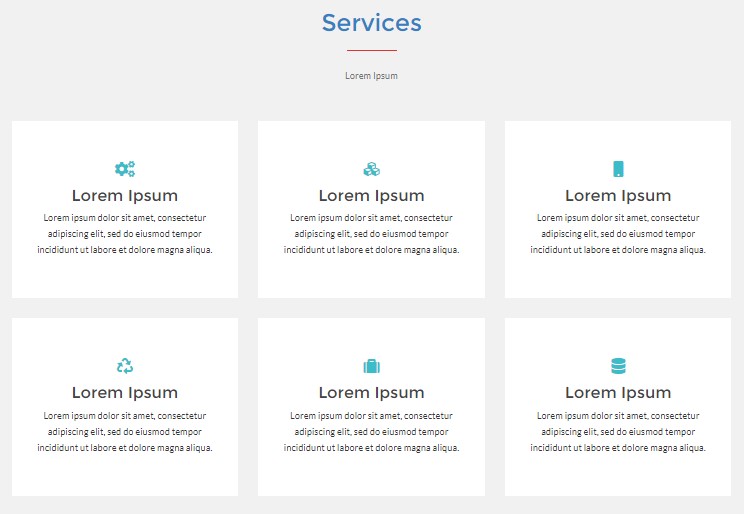 Whenever a visitor enters a portfolio website, they are looking for two main things. One of them is your portfolio and the second is the number of services you provide. Once you have both of these present, it gives the visitors the ability to judge your skills on the basis of your portfolio and the skills you have mentioned. In GTL Portfolio, the gallery section where you can display your past work comes under the services section.
Your Past Work History

Your honesty matters a lot. If you have or have not been in your field for a long time, you should anyhow go ahead and post numerical values of the number of projects you've done in the past, years of experience and the number of clients you've worked for. Not only is this an excellent step to establish trustworthiness, it will also let your clients know that you are not trying to fake anything. By summarizing your entire work history into a few numbers, you can greatly help the visitors to understand you quickly.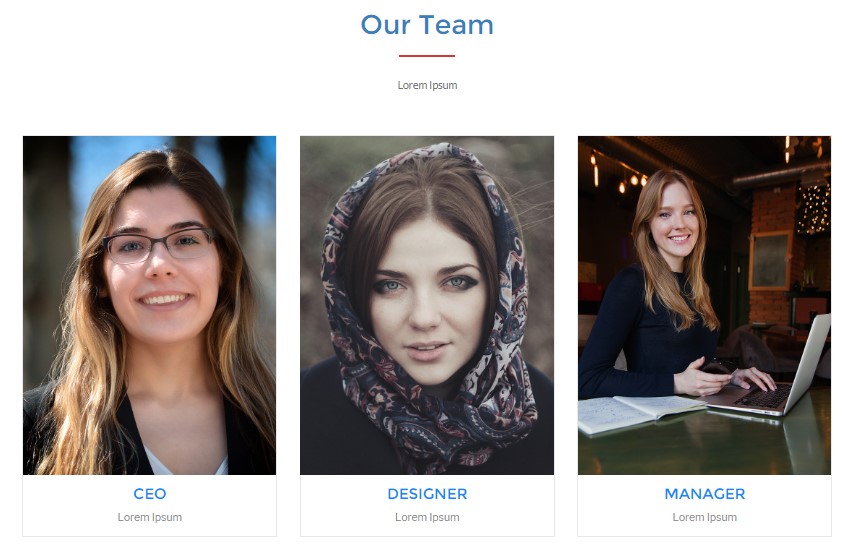 ­­­
Nobody likes to work with anonymous individuals. Let you and your team be proudly displayed on your website. If you work alone, you can either modify this section and transform into something else or you could completely remove it. This section is mainly concerned with those who own or are part of companies, whether large or small.
Showcase Your Work
Undoubtedly, the most important part of your website is your portfolio. Whether you have just started in your journey or are already working for a long time, displaying what you have worked upon is the best way to let your visitors know about your capabilities, potential and your accomplishments.
However, that's not all there is. Just uploading a bunch of images is nowhere near effective. Therefore, the next stage is to make sure that your portfolio is organized. Make sure nothing is cramped up or too left out, give each of your projects a title and upload a high definition picture of it. If possible, also add a little bit of description next to each one as to what the project was about, who it was done for and the company's web address. This type of detailing is known as a case study. Applying this strategy to all the items in your portfolio can play a key role in making your website stand out.
Display Your Testimonials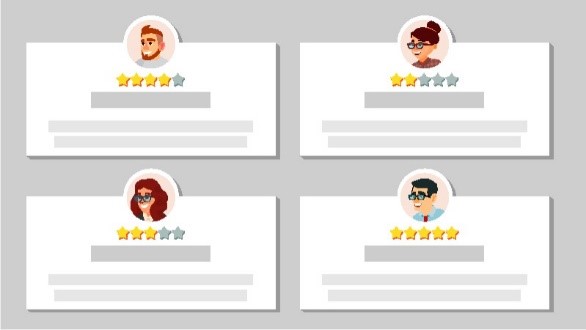 Another critical yet mostly neglected part of a portfolio website is the presence of testimonials. Whether or not you have been present in the industry for a long time, it is of utmost importance to request your clients for their feedback. Their words are a complete summary of what they felt about your skills, work ethics, punctuality and attention to details. These small yet pivotal compliments of them can fundamentally transform your future visitors' perspective of you and encourage them to hire you.
Setting Up an Online Store
Though this is not necessarily essential, it can make your website more interesting by allowing visitors to order items from your portfolio. If you are a passionate photographer or a craftsman wishing to let the world know about your expertise, an online store is the easiest way to achieve your desires.
One of the most commonly used eCommerce solutions are Shopify and WordPress + WooCommerce. Though both are exceptionally good, selection should be done according to your requirements.
While Shopify eliminates all the hassles and allows you to instantly start selling, it is slightly expensive for $29/month. On the other hand, WooCommerce comes at as low as $6.95/month with Bluehost and is the optimal choice for the budget-conscious or starters. Unfortunately, it is a bit complex to set-up but eventually pays off in the long term.
Let Your Designs Do the Talking
​You must let your work speak for itself. Your site needs to be visually appealing and not cramped up with self-written compliments about yourself. If you are as good as you believe you are, you will not need to prove it in any way. Your clients are the judges of your skills and if they are pleased with what you have shown in your portfolio, you are all good to go.
Secondly, make your website easy to navigate around. If you are not sure how exactly you can do it, the first step is to ensure that your chosen theme is responsive. This will allow all devices to display your website correctly and your clients can view it from the comfort of their own chosen platform. You can also make things easier by using plugins such as Enviro Gallery and Nimble Portfolio. Both of them allow you to create albums of your work and categorize them into relevant categories.
Add A Section About Yourself
A successful transformation of a visitor into a client requires trust and diligence. To build trust, you need to reveal a bit about yourself, tell your story and your accomplishments. Let others know what you aspire to achieve and what improvements you wish to bring in your industry of work. You do not need to write an autobiography, just a little bit about your background and that will be enough to convey the message that you are a genuine person.